At first I couldn't believe this: Bought a "three computer, two years" license of Kasperski Anti-Virus. Installed the 2015 version on three computers, entered the codes, and a bit later got – not really surprisingly – this: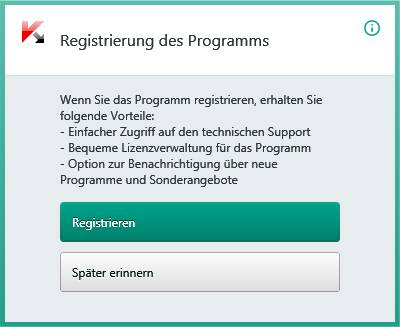 Ok, nice try, but: thank you, no. Wait… Where's the "Don't ask me again" checkbox? Right: There's none. And with "Später erinnern" ("Remind me later") the "later" is about six hours! This meant that I had to click this away six times a day (Twice on each of the three computers daily). This is close to blackmail and for a paid product completely unacceptable. Webresarch showed that choosing "Register", leaving the email address blank on the following form and then choosing "Skip" – and doing this twice solves the issue.
Ok, got rid of this. Nevertheless I am going to switch to another company and product as soon as this license expires…
Since abandoning my Palm last year I've been waiting for this one: A Palm Emulator for Android! With HotSync! Not that I now plan to run it fullscreen and permanently on my Smartphone and Tablets, but it makes me smile to see that old trustworthy, perfect companion up and running.
Von (scheinbar) Billigfliegern ist man es ja gewöhnt, aber das man sowas auch mit Parken machen kann, war mir neu: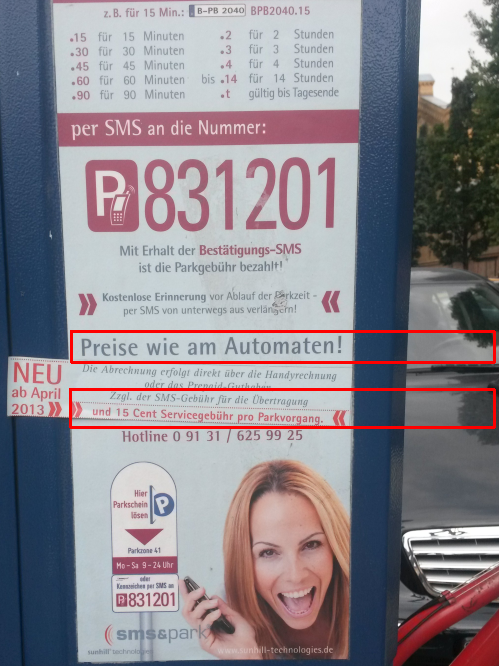 … does work exactly as numerous guides explain – or would have, if I hadn't been to impatient: Using IDE controller may lead to a crash reboot on "Registering Components" right after network configuration (as the VirtualBox manual cleary states) and it did crash reboot with me. The manual offers the solution:
These problems are all caused by a bug in the hard disk driver of Windows 2000. After issuing a hard disk request, there is a race condition […] The solution is to introduce an artificial delay before delivering such interrupts. This delay can be configured for a VM using the following command:

VBoxManage setextradata "VM name" "VBoxInternal/Devices/piix3ide/0/Config/IRQDelay" 1

This sets the delay to one millisecond. In case this doesn't help, increase it to a value between 1 and 5 milliseconds.
Now for the impatient (me) setting it to "1" first (still a reboot), then immediatly to "5" (still a reboot!), and finally looking for other solutions elswhere – to no avail …
… because "increase it to a value between 1 and 5" literally means to increase it: try "1", try "2", try "3" and behold! it worked with "3"!
Wenn es erstmal von allen Besoffene-Party-Fotos im Netz gibt, dann spielen Besoffene-Party-Fotos auch keine Rolle mehr…
"Puritanism is often defined as the haunting fear that someone, somewhere, may be happy"
Quelle
Irgendwann wird irgendjemand, von dem es ziemlich viele Besoffene-Party-Fotos gibt (weil er oft und heftig auf vielen Partys trank), sich auf eine – natürlich virtuelle – Seifenkiste stellen und Saufen im allgemeinen und Partys im besonderen für sündhaft unethisch und verwerflich erklären (nennen wir ihn Augustinus). Er wird viele Anhänger finden, die entweder, wie er, aus einem Kater heraus versoffene Partys nunmehr ablehnen, oder sie schon immer hassten, weil sie nie auf welche eingeladen worden waren. Da jetzt auch noch – wahlweise – eine Wirtschaftskrise, eine Naturkatastrophe oder eine Boulevardzeitung dazutritt, bekommt Augustinus die moralische Vorherrschaft und es beginnt die Überzeugungarbeit an, die Bedrängnis von und zuletzt die Verfolgung aller jener, von denen es Besoffene-Party-Fotos im Netz gibt und die sich nicht Augustinus' neuer Ordung unterordnen mögen. Früher war so was etwas schwieriger, weil man ja nicht überall, jederzeit und für jeden die beweiskräftige Dokumentation für ein vorher akzeptiertes, aber nunmehr verwerfliches Verhalten abrufen konnte. Jetzt schon. Dumm.